I wasn't planning on having a themed thrifting week but in the end it turned out to be
PLASTICS.
I'll start off with my grumpy old man, who isn't plastic, but had so much character that I had to bring him home to join my circus of wooden figurines.
I also found a nice little stepping stool (in the form of dice) because he is a wee fellow. I'm thinking he'll be the ringmaster for my circus of wooden toys.
If you haven't done so already, take a look at the highlight of my week
here
. After finding the chair I continued to one more thrift where I found a large stash of Heller-ware. It was just one of those great thrifting days.
One of the Heller pieces is a cleverly designed pitcher. I had to take a picture of the top so you could really appreciate the design.
The lid is notched at the top so that you can slip your finger in when pouring so that the lid doesn't fall. I love how it continues the groove of the handle.
... and then here is the rest of the blue stash of Heller. A platter, dinner plates, lunch plates, bowls and cups!
That's not all. Earlier in the week I found a few more dinner plates as well. Sitting atop the plates is a set of espresso cups and saucers designed by LaGardo Tackett for Schmid.
I found a mixing bowl or dough rising bowl designed by Arne Darnell for Perstorp. I love the sinuous shape of the handles...
...and a large Rosti mixing bowl.
I also caved in this week and bought some Pyrex. I was trying really hard not to add another set of items to collect but I couldn't resist. They reminded me of the Copco dutch ovens which I really really love. I was surprised when I turned them over and found that they were Pyrex! So here are my Pyrex Hostess Casseroles.
One of the things I loved the most about this weeks finds were all of the bright colors. They are just perfect for summer! They certainly bring cheer to my home.
I tried to keep it short and sweet this week. I have so many things I need to work on and a friend and I have also decided to hold each other accountable for some design projects. I'll let you know how those go!
Don't worry though, I'll still be popping by to take a peek at your finds!
Pairing up this week with
Sophie
and
Selena
and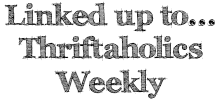 I hope you do too!